Do you know the story of
Edie Sedgwick
? (April 20, 1943 – November 16, 1971) was an American actress, socialite, model, and heiress. She is best known for being one of Andy Warhol's Muses. Sedgwick became known as "The Girl of Year" in 1965 after starring in several of Andy Warhol's short films in the 1960s. I just watched
Factory Girl
, a movie based on her life. Wow. She died at 28 and because she really got caught up. Don't get caught up.
My favorite lines from the movie are:
"You are so scared to lose everything that doesn't mean anything"
- which her boyfriend says to her when he's leaving the Factory. She realizes that was the biggest mistake of her life not leaving with him, and re-entering the world of Andy Warhol for the glitz and fun and games and drugs.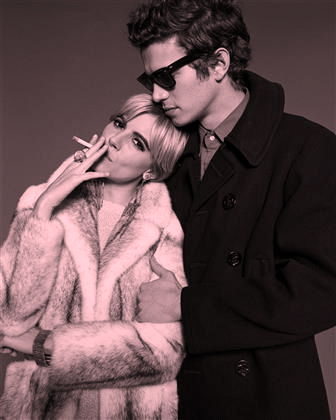 "I think sex is too abstract anyway"
Andy Warhol said this and as weird as he was, he was really just not about definitions or any rigid definitions in any facet of his life. Think about that one. I also loved the part when her real friend from home, Syd, shows her the last pic he took of her before she left for the Big Apple - He asks her,
do you remember this girl?
She ran out of the cab sobbing. You need to have real friends in your life who are really really going to be there for you when the 'party' is over.
"So much more fun in

NY

since you showed up"
is what Andy says to Edie when he first meets her. My take on this is that yes, you can always make someone else's world more fun, inspire them and be their muse. BUT don't forget about yourself and to look out for your own interests. Edie did not do that and consequently got caught up and destroyed her life. If you are looking for a good movie this weekend, you can rent this on
NetFlicks
Andy Warhol was right when he said she created a whole new look and every girl wanted to look like her. This is the "Edie" look, I love it:
Vintage girl
by
♥ Cris ♥ (Brasil)
featuring
1928 jewelry
factory girl.
by
monicarhymeswith.
featuring
Alexander McQueen shoes
Tweet This