He's more than just a designer...to his legions of devotees, Alexander Wang is a kindred spirit. Like his unofficial muse—a street-smart modernist-meets-vagabond—the
23-year-old
Wang possesses a sense of confidence that runs deep.  He managed to kick off his first fashion show at just 15. Started making dresses for this sister in law who was a club promoter... at the age of 15! Amazing.
"Anyone can get all dressed up and glamorous, but it is how people dress in their off days, that are the most intriguing"

He was born and raised in San Francisco and has a Chinese American family. Moved to NYC at 18 to attend Parsons Design School and partook in a variety of internships. He launched his full womens collection in 2007, selling internationally to over 150 boutiques and retailers. Now at 24, he lives in Lower East Side in NYC. 2008 Top Honors from Vogue/CFDA Fund and nominated for CFDA Swarovski Womens Wear Designer of the Year.

Star who wear Alexander Wang...

Amber Rose

Alexander Wang makes clothes for "modern-day carnivores," according to the designer himself. "My girls like to go out, they want to have fun, they want to explore," Wang told Jada Yuan in this backstage video, and you can count Sarah Jessica Parker, Santigold, and Erin Wasson among those followers.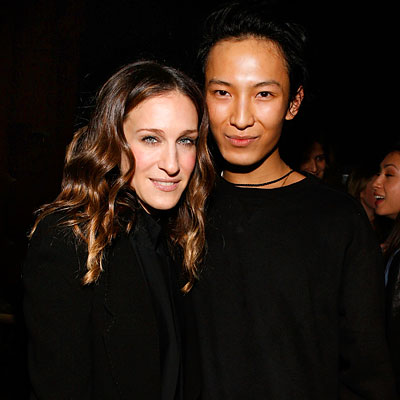 Lindsay Lohan & SJP wearing the Alexander Wang buffalo plaid cardigan

Waterproof denim, rock and roll, simple but refined, scuffed, graffiti, attitude, street smart, downtown, girls who are cool and wear what is comfortable!

He also has a condom coming out. A black package with a white fig leaf. Look out for that :D

HeyDoYou is for the cute, clever and connected - Follow this blog!

Tweet This